become an aesthetic pro in less than a year
What's the best way to get to know and experience who we are here at FAMA?
By visiting of course! Your new family is already waiting for you. Take a tour of our campus in person, and soak up the beautiful South Florida sun. Get a sense of all there is to love here, from our nurturing staff, and unique hands-on training, to the bright atmosphere. We know you'll leave craving the learning experience only we can provide! You'll also discover just how much there is to see and do here in South Florida ☀ 🌴
Not only is FAMA ready to make a stellar first impression, we are ready to help you take the first steps of your lifelong career. We can't wait to meet you and welcome you into our close-knit family, become #FAMAProud today!
Get ready to have your mind blown, our school has the coolest learning environment around, and we want to show it off to you! Join us for a campus tour and see for yourself why we're the best in the biz. Take a look at our top-notch facilities, and meet our faculty members who are passionate about providing hands-on training in the latest techniques and technologies in Medical Aesthetics.
You'll also have the chance to grill us with all your burning questions about our programs, curriculum, and job placement services. Don't miss out on this amazing opportunity to kickstart your career in Medical Aesthetics!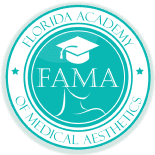 Want to explore campus on your own? This tour begins in front
of Millican Hall at the Reflecting Pond, and it concludes at the
Recreation and Wellness Center. There are 10 stops on the self-
guided tour.
Questions? We've Got Answers.
Discover why FAMA is the perfect fit for you by speaking with one of our advisors. Whether you need help navigating the application process or want to hear firsthand experiences from current FAMA students, our advisors are here to assist you every step of the way.
We've made it easier than ever to apply to FAMA. Start your application today.
Review FAMA's freshman admissions requirements to be considered for admission.
Discover how FAMA can simplify your financial life. Explore our flexible payment options.