Staying Current: The importance of Continuing Education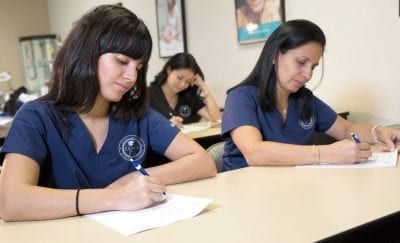 In the world of beauty, becoming a licensed esthetician is by no means where the academic training ends. New treatments and technology are continually being introduced, and the regulations with which estheticians must comply change as the industry changes. Hence, continuing education is essential and not to be taken lightly.
Yes, earning a designated number of continuing education units (CEUs) is required within a stipulated time period for license renewal. But beyond that, the coursework is critical to keeping one's knowledge up to date in order to maintain the highest standards of practice.
Depending upon the license an esthetician holds – Body Wrapper, Hair Braider, Barber, Facial Specialist, Cosmetology, Electrology, Laser Hair Removal – different CEU classes are required, and to qualify for license renewal, these classes must cover subject matter mandated by the state. So when you, as a practitioner, need to fulfill your requirements, make sure the courses have been accredited – as Danik's have – by the appropriate governing authority. Also look for a school that offers both online and live classes, as some licenses require both for renewal.
Finally, look forward to your continuing education classes as an opportunity to stay at the top of your game, whether you're refreshing your knowledge of HIV/AIDS and Medical Terminology, or delving into such electives as Cosmetic Marketing, and How to Launch & Advance Your Career.