A Day in the Life of a Facial Specialist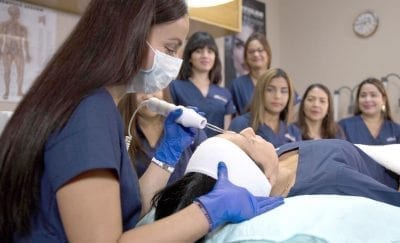 Ask any licensed Facial Specialist what it's like to be practicing in a medical spa or dermatology office, and they'll likely respond, "Fantastic!" In fact, we asked that question of Marcela Botero, and here's what she said, "Every day is different and exciting. At 10 a.m. I may be consulting with a patient about anti-aging treatments, and at 11 a.m. I could be giving a teenager a therapeutic acne facial."
Along with each day's variety, skincare specialists also love the fact that they are sincerely helping people. Notes Full Specialist Rosa Rogers, "Both adolescent and adult acne can be traumatic and disfiguring. If I can help control the outbreaks and diminish the scarring, I feel a real sense of accomplishment because the patient is overjoyed." The same is true after administering such treatments as IPL Photo Rejuvenation, Fractional Skin Resurfacing, or a Medical-Grade Chemical Peel. You're helping your patients achieve smoother, healthier, younger-looking, and that's something every esthetician can be very proud of.
Still, there are other rewarding career paths for estheticians, such as retail sales. Jen does makeovers and sells high-end cosmetics at a leading department store. She says it's everything she ever dreamed of and couldn't be happier, "I show women how to use makeup to accentuate their best features and correct their weak ones. Then I teach then how to blend skincare and makeup lines to achieve the same results at home. I love it, and the money is great."
For more about a day in the life of a Facial Specialist, stay tuned!