Double your Income with Dual Licensing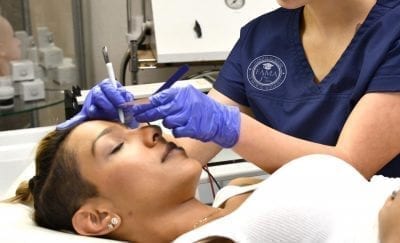 Yes, the beauty industry in America is growing by leaps and bounds. In fact, total revenues are expected to top $62.24 billion in 2016. With the pie getting bigger every day, now is the time to plan your strategy for capturing the biggest possible piece of that pot of gold.
The smart money is on those forward-thinking beauty professionals who recognize the advantages of dual licensing. When you think about it, it only makes sense to grow your business by offering Skincare to your already loyal nail, hair, or massage clients.
The Future of Skin Care
Skin care is the fastest-growing sector of the beauty industry. Furthermore, recent statistics show a marked trend toward non-surgical rather than invasive, surgical options. That means the time is right to branch out in order to make yourself twice as marketable to customers well as employers.
How about a facial to make your complexion glow as beautifully as your manni and pedi? Then again, after your massage, wouldn't it be convenient to schedule a rejuvenating chemical peel? The U.S. Department of Labor has forecasted that in the decade from 2008 – 2018, skin care specialists will see a 38% growth in business. That being the case, it's just plain smart to add skin care to your professional areas of expertise?
What Industry Leaders Have to Say
Notes Danik Beauty Academy's German Segura, "We're seeing more and more licensed practitioners return to school to earn the Skin Care Diploma required to become a licensed Facial Specialist. The course takes just 3-1/2 months, and dual licensing allows clinicians to dramatically increase their earning potential by providing clients with multiple services." Adds German, "Dual licensing increases a practitioner's value to salon/spa owners and managers, and soon it will be the industry standard.
About Danik Beauty Academy
Danik Beauty Academy offers the following three licensure programs: Skin Care, Electrolysis, and dual licensure Skin Care & Electrolysis. Danik offers the advantages of small classes, weekly open enrollment, and both day and evening classes. Affordable tuition payment plans are customized to meet each student's individual needs, and tuition includes intensive preparation for required licensure exams.