Offer Eyelash Extensions to Boost Sales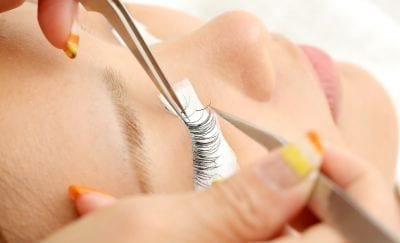 Add Eyelash Extensions to your lineup of esthetic services, and watch your revenues hit all-time highs!
While today's economy remains sluggish, the demand for esthetic procedures continues to skyrocket, and one procedure is outdistancing the rest – Eyelash Extensions. Currently, it is the fastest-growing and most profitable service in cosmetology, with sales reaching $44 million annually. Additionally, eyelash extension
s require touch-ups every 2 to 3 weeks and replacement every 6 to 8 weeks, creating an ongoing revenue stream for the Certified Extension Specialist.
Required Credentials
In the State of Florida, licensure as a Cosmetologist, Esthetician, Full Specialist, Facial Specialist or Medical Professional is a prerequisite for Eyelash Extension Certification, which is earned by completing the required coursework at a licensed beauty or cosmetology school. In recent years, the rising demand for semi-permanent eyelash extensions has made certification increasingly important, both to ensure client safety and to expand the roster of profitable treatments offered by esthetic professionals.
Why are eyelash extensions so popular?
The answer is time and convenience. These days, most women don't have the time or patience to apply fake eyelashes before they begin their commute to the office. You can shower, exercise, swim and sweat, but if applied professionally, eyelash extensions will always look perfect – 24/7.
Time and Cost
The initial application of a full set of extensions takes 1-1/2 to 2 hours, and prices range from $150 to $275 depending on the type and number of extensions applied. Meanwhile touch-ups, fills and extended fills will add another $35 to $95 to your bottom line every 2 – 3 weeks. What's more, there are lots of additional ways to upsell your clients by offering lash dipping, colored lashes, and customized designs for a more dramatic effect.
If you want to secure client loyalty by offering more services under a single rood, start researching school's now to earn your Eyelash Extension Certification.